The Art of Living International Center
We are pleased to announce that from our Campus will be open for visitors from 8:00 am – 8:00 pm IST.
Note: There will be no Darshan and no Satsang. Annapurna Dining Facility will not be accessible to the visitors and there will be no stay in the campus for visitors. The schedule and timings are subject to change in accordance to the situations without any prior notice.
For latest updates, please get in touch with our Information Desk: +91 (80) 67262626.
In accordance to government guidelines to avoid large public gathering and ensure public health and safety, The Art of Living International Center will be closed for visitors till further notice.
Also Note: During this time of uncertainty due to corona virus pandemic, as a measure to protect your health and safety reasons, all programs / activities scheduled from April 2020 onwards at The Art Of Living International Center, Bengaluru is postponed till further notice.
For more clarifications, please feel free to contact our information desk on +91-80-67262626
[ashram_date day="tomorrow"]
[ashram_gurudev day="tomorrow"]
[ashram_events day="tomorrow"]
For more information, please contact the Ashram Information Desk at +91 80 67262626.
Must See Places In Ashram
Ashram is a place where life grows effortlessly in every form. Along with wide range of programs that are offered, ashram is also a place to explore the beauty of this creation. Ashram bus tour includes visit to must see places in our 250+ acre campus, guided meditation sessions and a lot of take away memories.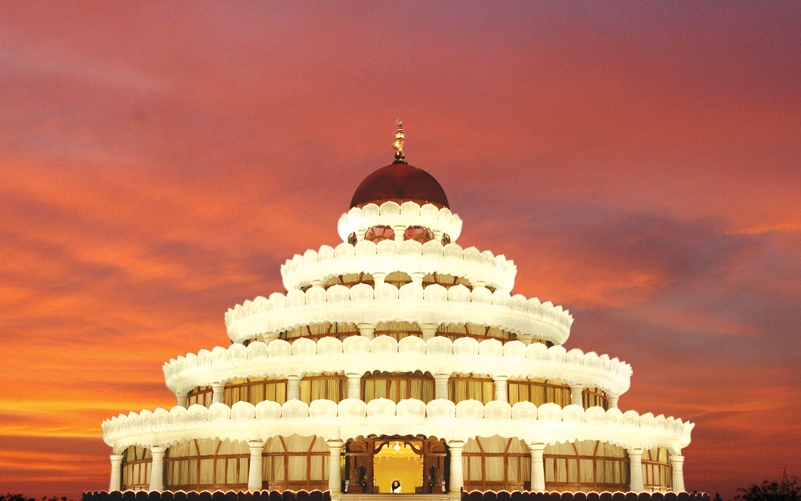 Named after Poojya Gurudev's mother, Vishalakshi, Vishalakshi mantap is the focal point of the Ashram. This beautifully crafted architectural marvel has been conceived and designed by Gurudev himself. The Mantap known for its intricate craftsmanship, stunning illumination and elegant décor was built with the dedicated efforts of 7,000 workers and volunteers.
The glass dome that tops the building is adorned with a magnificent 'kalash' – 15 feet 3 inches high – the tallest in Asia. Gurudev has best described the feeling one gets when inside the Mantap as 'coming in to the lap of the Mother Goddess.' No one has yet been able to resist falling in love with the Mantap.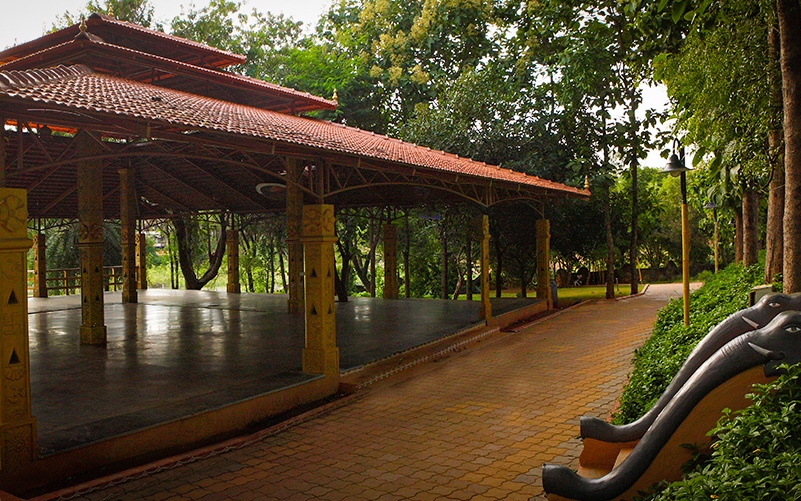 The perfect setting for an evening walk, Radha Kunj is a beautiful garden that could well be one of the serene places in the ashram. With exotic flora, unending greenery, sparkling fountains, a lake, lily ponds, a waterfall and an earthy pathway, Radha Kunj is a tribute to the well known original garden in Vrindavan.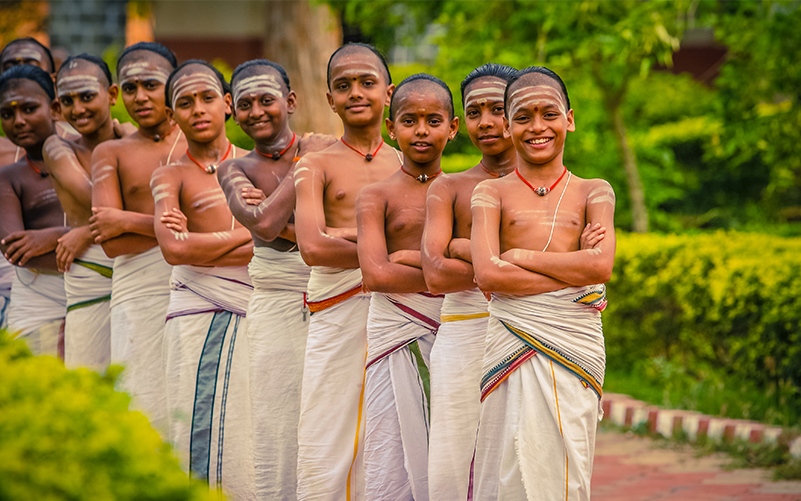 A visit to our Gurukul will give visitors a unique learning experience of how schools were run in ancient India and how Sri Sri Gurukul is catering to the needs of the students from all over the country to learn the Dravidian styles as well as all aspects of learning related to temple worship. Sri Sri Gurukul has already become a centre of excellence, not only in Veda, Agama and Sanskrit, but also in Jyothisham, Siddhantha, Sangeetham, Yoga, Vedic Mathematics, Shilpa Shasthra, etc.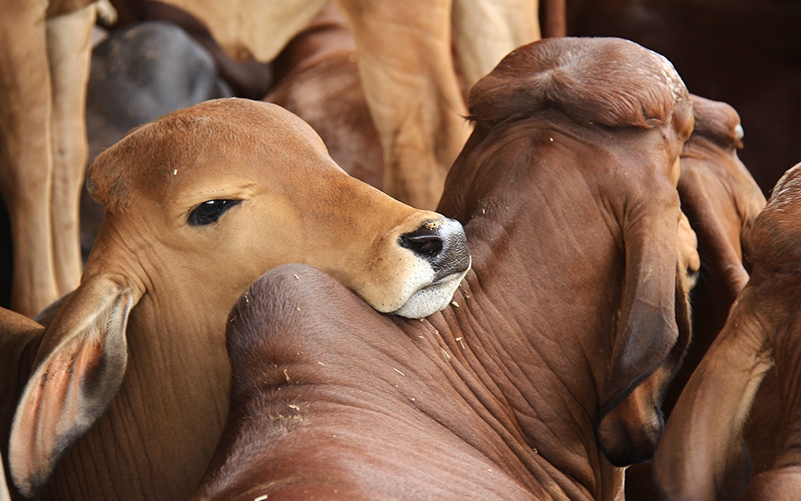 In an effort to preserve and protect indigenous cows, Sri Sri Gaushala has been set up at the Art of Living International Center, Bengaluru. Gaushala is an integral part of the Indian society, primarily holding importance amongst the agriculture and dairy farming community.
With the aim to revive the gaushala system as well as preserve indigenous cattle breeds, the Sri Sri Gaushala today houses hundreds of cows of 15 different exotic breeds from across India.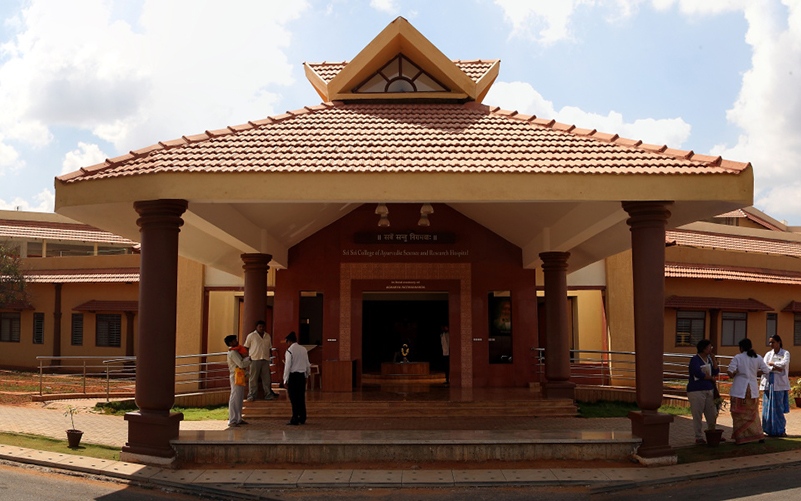 Sri Sri Ayurveda Hospital
Located on the hill top, Sri Sri Ayurveda Hospital is known to be one of the finest hospital providing naturopathy treatment with holistic approach towards health and wellness. With state of the art treatments made available at the hospital, the ambiance around makes it even better to stay back and experience the beauty of nature. 
Our visit to Sri Sri Ayurveda Hospital will give an overview of the facilities and treatments available in the hospital and also some practical insights on how natural ways of life can keep us away from physical and mental ailments.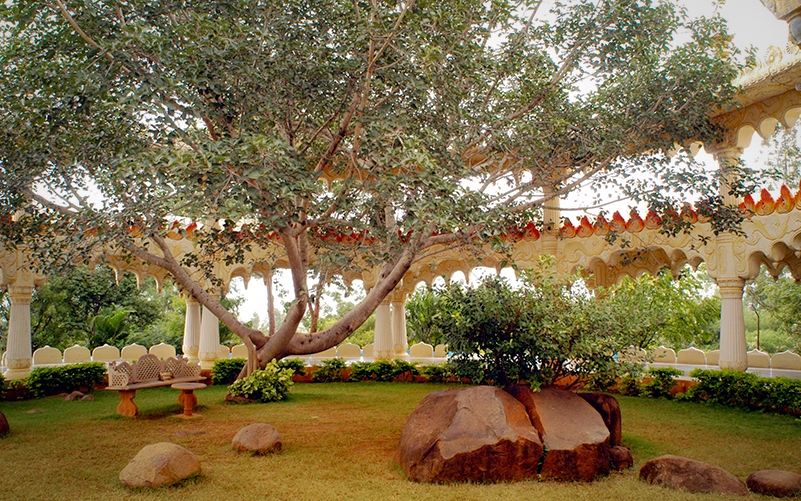 Geographically located at the highest point in the Ashram, this open air auditorium with an upper balcony yields a breath-taking view of the Ashram grounds and the surrounding areas. The structure is supported by twelve pairs of pillars, representing the twelve signs of the zodiac around it and encircled by ornate lotus petals, the Sumeru Mantap is sheer poetry in architecture. The pillars have been so designed that the first rays of the Sun fall on the pillar with the corresponding zodiac sign carved on the ceiling above it. The Lotus shaped Sumeru Mantap is a must-see sight for all visitors to the ashram.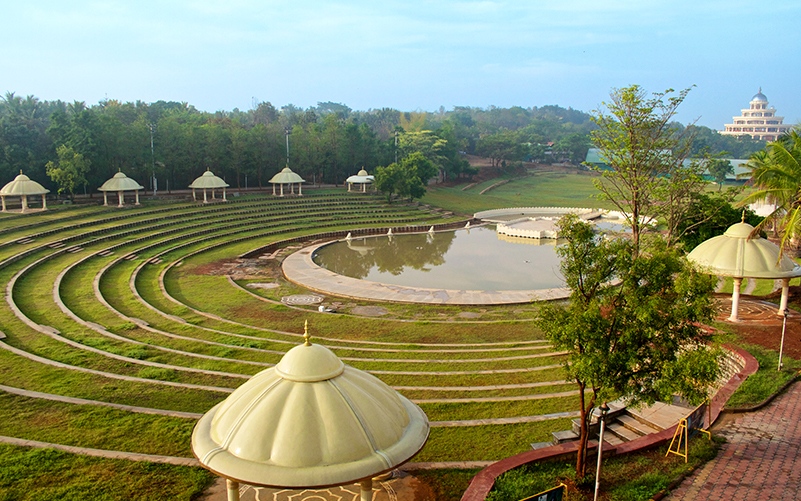 The Guru Paduka Vanam is designed in the shape an open amphitheater, ariel view of this iconic place looks in the shape of a Paduka and accommodates millions of people. The architecture of Guru Paduka Vanam is based on Vedic Concepts of beautiful gardens (vanam), which provide shelter and nourishment to a seeker on his spiritual journey.
Programs Offered At The Art of Living International Center
Powerful breathing techniques, deep meditations, life skill tools and practical wisdom which are easy to apply in daily life to be sustainably happy.
Meticulously designed programs for kids and teens to bring out the highest potential in every child of this generation.
Bundle of advance programs which enhances inner peace and outer dynamism by deep-diving with-in and experiencing the true version of self.