For a memorable experience at The Art of Living International Center
The Art of Living International Center is a home for all where life grows effortlessly. From resident volunteers to casual visitors, facilities and amenities in the campus of The Art of Living International Center give easy accessibility to various types of comforts to keep botheration aside and make life a celebration in every aspect. Thousands of resident volunteers tirelessly serving in the campus has made it one of the 'must visit place' in India. Here are some of the key facilities inside the campus which strive to give you a memorable experience of your visit or stay at our Center.

Shopping Complex

24/7 Shuttle Service

Cyber Café

ATMs

WiFi Connectivity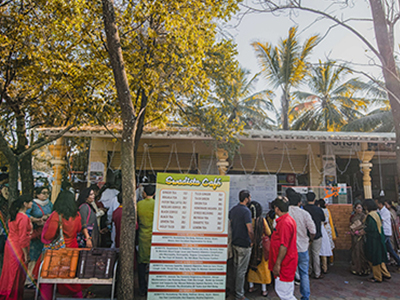 Swadishta is a snacks point at The Art of Living International Center with a perfect ambiance for quick bites of desi Indian snacks, sandwiches, Chinese cuisines, a cup of kadak chai, or fresh fruit juices. A perfect location for one to relish sweet and spicy flavors in the campus.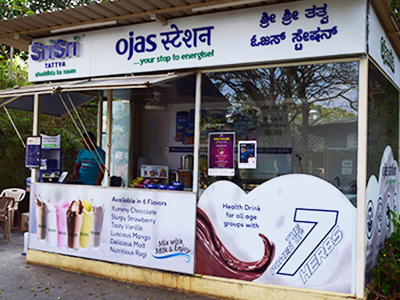 Ojas station is an energizer point at The Art of Living International Center which offers a wide range of snacks, cookies, and milkshakes made from Sri Sri Tattva's proprietary health drink – Ojasvita, the power of seven ayurvedic herbs.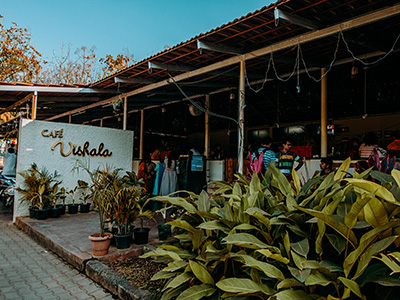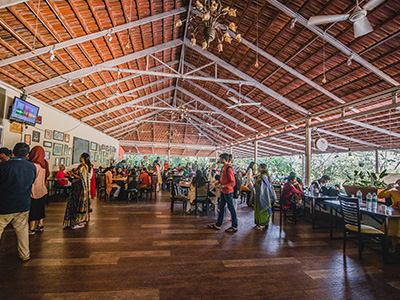 Cafe Vishala is a fine dining facility in the serene ambiance of our Center. Known for healthy cooking and baking with no food color and no added preservatives. The cafe serves Indian, Italian, and Chinese cuisines with whole wheat eggless bakery products which are just irresistible.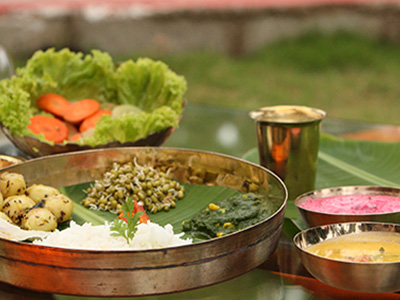 Panchamruth is a multi-cuisine sattvic restaurant that is designed to be high in 'Prana'. Dining at Panchamrut is a complete sensory experience based on the tenets of Ayurvedic nutrition – light and easy-to-digest wholesome Sattvic food that suits one's individual body constitution.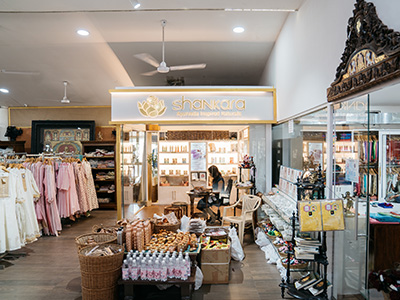 'Madhurya' was born out of the vision of Smt. Bhanumathi Narasimhan in the year 2007 to promote and support artisans and revive traditional Indian crafts and weaves. Madhurya brings to you an exquisite heritage collection of sarees, jewelry, furniture, paintings, sculptures and home accessories. The proceeds, in return, support the education of under-privileged children through the Art of Living's Gift-a-smile project.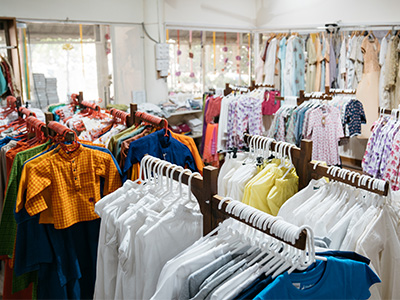 BYOGI stands for a lifestyle product line that is convenient, functional, simple yet interesting range of Yoga Wear which offers a comfort fit that will let you effortlessly stretch, pose and relax. The BYOGI store at The Art of Living International Center offers a colorful range of Ethnic Casuals which bring life to the mundane and the uncomplicated cuts which will let you be at ease through your daily routines.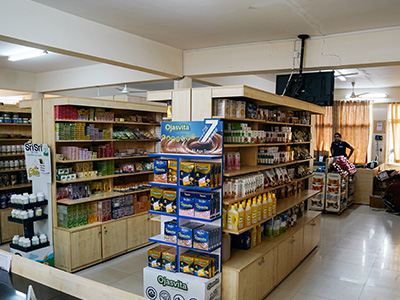 Sri Sri Tattva exclusive shop at The Art of Living International Center brings about variety of top class household, ayurveda, medical, personal care and grocery products with a goal of promoting health and wellness to every household. One can also opt for Nadi Pariksha (ancient method of pulse diagnosis) with expert doctors at the outlet.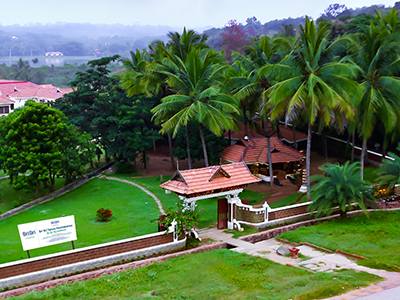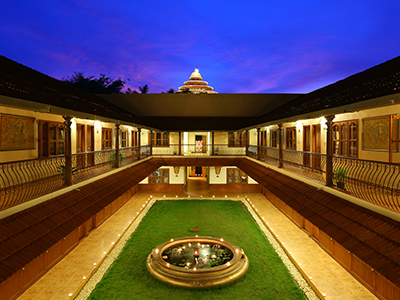 Sri Sri Tattva Panchakarma
Sri Sri Tattva Panchakarma is a specialty center of ancient Indian healing traditions, which also offer alternative cleansing therapies from around the world. A wide range of wellness regimes are offered as prescribed by ayurvedic practices. Rigorous detoxification, therapeutic massages, personalized diet and exercise programs contribute towards building a lifestyle changing experience.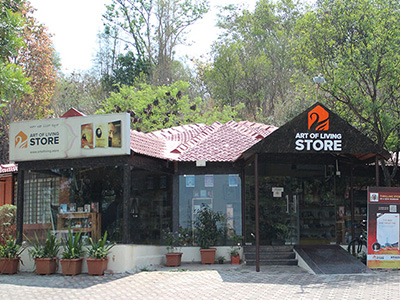 The Art of Living store has a repertoire of unique, high-quality products. Art of Living Books, discourses in the form of video and audio CDs and DVDs, and soul-stirring Art of Living bhajans in the melodious voices of some of The Art of Living's singing legends form a never-before unique bhajan collection. It also carries high quality exclusive and eclectic product range in the areas of nutrition, wellness, beauty, and home.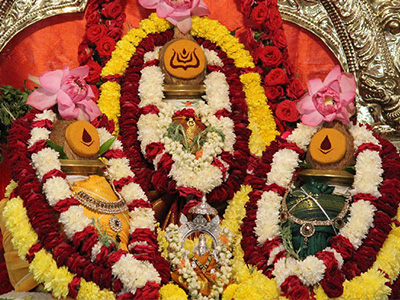 Vaidic Dharma Sansthan is a charitable Religious, Spiritual and Educational body, inspired and guided by Gurudev Sri Sri Ravi Shankar. The trust work towards promoting the Indian culture and educational heritage offering a wide range of traditional Vaidic pujas and homas, Vaidic Marriages, Upanayanam, and various Vaidic ceremonies (Samskaras).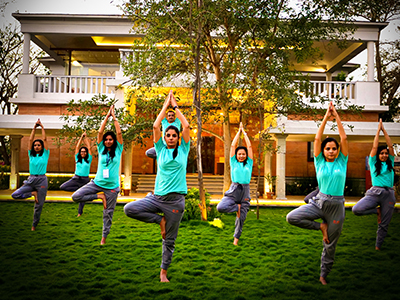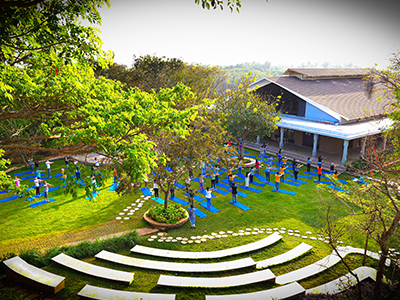 Sri Sri School of Yoga offers training courses and certification in Yoga that promises to provide the relevant tools and techniques of authentic Yoga practices along with guidance to help expand the world's understanding of yoga.
Through education and training that are steeped in the Vedic tradition – the original roots of yoga – and a long lineage of masters while making yoga accessible and applicable for modern-day use for people of all ages, abilities, cultures, and religions.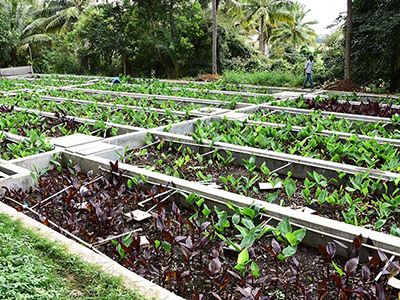 Sri Sri Institute of Agricultural Sciences & Technology (SSIAST)
SSIAST facilitate interaction with farmers or anyone who is interested, to apprise them of the causes for the decline in crop productivity and escalation in production costs that eventually result in higher consumer prices. Their seminars, lectures, and demonstrations have been instrumental in creating awareness among the farmers about the dangers and disadvantages of chemical farming.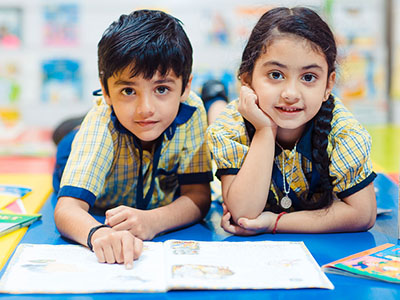 Sri Sri Ravishankar Vidya Mandir
Sri Sri Ravishankar Vidya Mandir (SSRVM) is an educational wing of the Art of Living. Sri Sri Ravishankar Vidya Mandir, as the name itself suggests, is designed to be a temple of learning where knowledge is revered; SSRVM schools provide world-class holistic education that is aimed at all- round development of the students' personalities by facilitating Cognitive, Physical, Emotional, Social and Spiritual growth.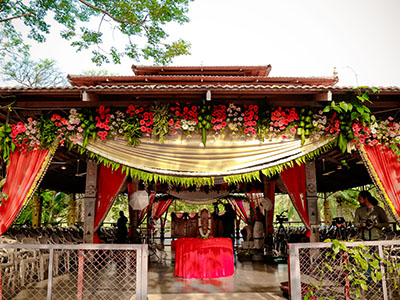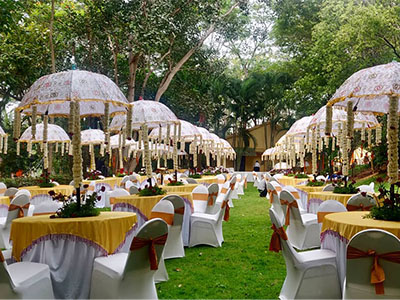 The Art of Living Matrimony
When two people's life goals and paths are the same, it melts away any personal differences and it makes it easy to face life's challenges with a smile. It provides phenomenal strength, stability and an innate joy in living a life that is fulfilling not only for the couple but for every life they touch. The Art of Living Matrimony is a platform to bring people with similar life values together. The purpose is to build a better, more peaceful, world by enabling happy families with a commitment to share & serve together!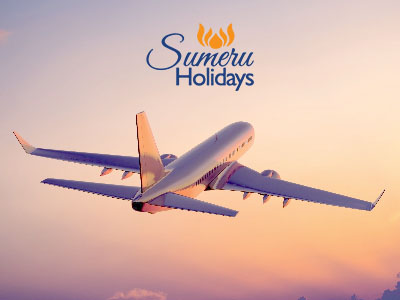 Sumeru Holidays offer unique opportunities for self-discovery and forging lifelong friendships by visiting a number of the world's most sorcerous and transformative sacred places. Sumeru Holidays facilitates the learning of many ancient spiritual traditions through their knowledge teachings, ceremonies, and healing practices. Join us on one of our spiritual journeys to attach with the ancient energies that exist at some of the foremost sacred sites around the world.