A profound way of expression of gratitude to the lineage of Masters  
Guru Puja is a traditional ceremony of expressing gratitude and honoring the lineage of Spiritual Masters who have been the custodians of the knowledge of the Self. Under the loving guidance of Smt. Bhanumathi Narasimhan, sister of Gurudev Sri Sri Ravi Shankar, one learns to chant and perform Guru Puja.
Chanting Guru Puja unites our mind with the beautiful ancient knowledge, lovely guru stories, and a profound feeling of the presence of great Masters.
Many participants had an ecstatic experience during the course while chanting and Performing. 

Eligibility
Program Overview
Eligibility
For Guru Puja Phase 1: Four Advance Meditation Programs + Sahaj Samadhi Meditation Program.
For Guru Puja Phase 2: Atleast 6 months after completion of Guru Puja Phase 1.
Program Overview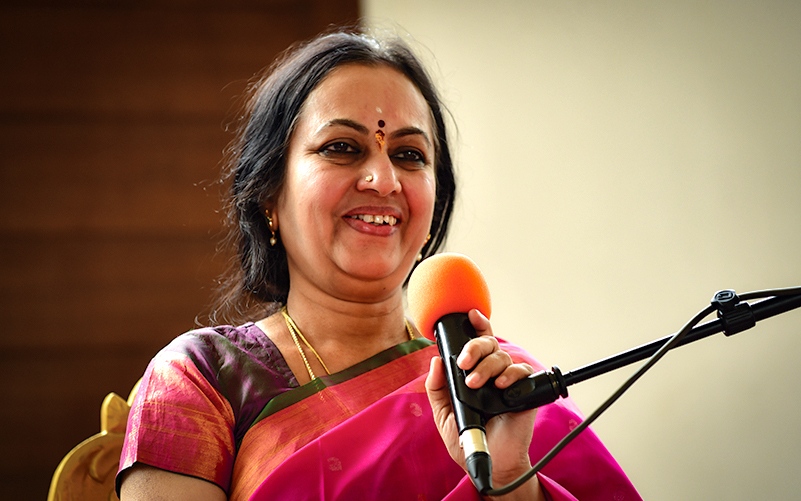 A Little about Smt. Bhanumathi Narasimhan
Bhanumathi Narasimhan is the sister of Gurudev Sri Sri Ravi Shankar, humanitarian leader and ambassador of peace, and shares his vision for a stress-free violence-free world. Bhanumathi Narasimhan is the Chairperson of the Women's Welfare and Child Care programs of The Art of Living, a not-for-profit, educational and humanitarian NGO engaged in bringing stress relief and service initiatives in 180 countries. She has deep roots in spirituality and a broad vision for service to humanity.
For over three decades, she has been committed to bringing a positive social transformation with a focus on education, environment, and women empowerment. Enabling people to handle their negative emotions and stress with meditation and breathing techniques, she has helped them regain their self-confidence and come to the forefront to take responsibility for a harmonious society through service.
Facilities and Amenities at Our Center
Interested in Learning Guru Puja?
Fill up this form for us to get back to you
Powerful breathing techniques, deep meditations, life skill tools and practical wisdom which are easy to apply in daily life to be sustainably happy.
Meticulously designed programs for kids and teens to bring out the highest potential in every child of this generation.
Bundle of advance programs which enhances inner peace and outer dynamism by deep-diving within and experiencing the true version of self.